Whangarei
In 1978 while working as a maths teacher at Tikipunga High School in Whangarei, I began researching the new microprocessor products that had become available.
Prior to that my electronic circuits had either been analogue (Ham radio, music effects etc), or TTL digital. Having studied programming at Canterbury University I was keen to develop this skill. At that time 8 bit micros had started to appear, and I purchased a development kit from Scientific Cambridge in England. This was one of the early enterprises of Clive Sinclair (later Sir) of ZX80 fame.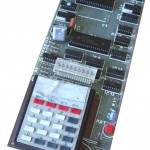 This was based around the National Semiconductor SC/MP INS8060 micro, and was purely a base board with Hex Keyboard and a 9 digit LED display. It had an interface to read and write data files to a cassete tape deck. Sometimes a hit and miss affair, and often 2 or 3 attempts were required to get a decent save.
The INS8060 was soon updated by the INS8070 which had a Tiny Basic interpreter included, and life was suddenly looking quite bright. While assembler is incredibly powerful, it is also quite time consuming, and without good tools, a challenge to debug once you start getting large programs.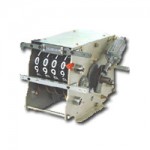 One of my colleagues at Tikipunga, Christine Morgan was married to a local electronic serviceman, Ken. By chance his brother Barry worked in the Service Station support industry, and at that time a big problem was looming. Petrol prices were rising quickly here in New Zealand, more so than anywhere else, and the old mechanical registers were literally flying apart with the speed the dials rotated. This was a need crying out for an electronic solution.
Together we formed an informal partnership called Benmore, and development got underway. Not a garage project, it was an attic project, above Ken's service business. In sub-tropical Whangarei in summer, I lost a lot of weight sweating on the job.
Learning to program in assembler, I rapidly became aware of the potential here. With help from the team to address the hazards of electrics running in an explosive gas atmosphere, a first prototype was developed, and was tested out in the yards at Pump Maintenance. Manager Andrew Denton was very supportive, and provided an old pump frame and hydraulics to test it.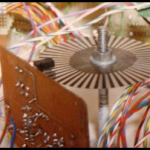 An substantial aluminium cast enclosure was made at a local foundry to house the high voltage electrics, while the parts that needed to be visible were designed as "intrinically safe" – that is they never used, or could accumulate enough energy to cause a spark that had the capacity to ignite the fuel being delivered should a leak or accident occur. This was new territory in New Zealand, and we worked with Wakefield labs in Auckland to develop the means to test the circuits.
This meant many trips to Auckland, and in one almost disastrous event, I left my drawings on the boot of my car, and took off back to Whangarei. By the time it took to drive back to Whangarei, one kind soul had seen me drive off, picked up the roll of drawings from the road, determined that they were quite important, and tracked me down. So on arrival back home in Whangarei my wife greeted me at the door with the news! And that's without any Internet as today. Roses chocolates were in order.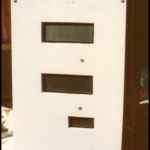 We eventually felt confident to fly to Wellington and present our new design to the four major Oil Companies. They were all impressed, and interested. BUT, and this was a biggie … they had all just signed a development with another company, PEC in Marton, which excluded them using any other product in the meantime. It took PEC 18 months to get their product to the market, so the partnership became redundant and I moved to Auckland to pursue other opportunities with my new found skills.
Business lesson #1, always research your market first.
PEC went on to become a main competitor, but that another story. However there were many good friendships forged with the engineers and marketing staff there, as we were all working in a pioneering field. Admittedly they were a lot larger, however as I moved on in this industry, I found that the Oil Companies keen to have competition, and it was helpful to have friends in high places at times.
Helensville
1980
With a young family I need to have a home, at the same time develop a business. Helensville was ideally suited, having cheap home prices, and being relatively close to the source of components and potential customers. I set up Microelectronic Services Ltd.
I managed to befriend the local ANZ Bank manager who rented me their old ANZ branch building in the northern part of the main street. We had an old bank safe, and it did feel like the old wild west sometimes. The Bank Manager Bob was into racing cars, and I think he liked my entrepreneurial style.
A while later we had to expand and we moved into an old church next door. The church had to be de-consecrated, and it gave us heaps more space.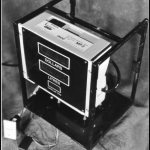 Our first chance came with the development of the electronics for Compresed Natural Gas (CNG) and LPG dispensers. There was a government funded push to develop alternative fuels, and this got us into the market, with a system that not only metered the fuel and displayed the price, but also managed the process. Being a high pressure gas, fuel was stored in three sections, all with different pressures. for efficiency, three stages were involved, fill from the low pressure storage (the larger), then move the the mid range, and finally the high pressure for a top up. This was the smallest in capacity. So there were pneumatic valves to switch the flows, and electrics to control that. Quite a complex and sophisticated system.
Pioneers in this were Hugh Fulton (now designing small personal underwater submarines) and Peter Urquhart who with his brother Glen ran the BP Station in Wairau Road in Auckland. They also raced high speed offshore boats.
The industry was somewhat frenetic with the money made available, and there were many cowboys and pretenders. There was some pretty underhand tactics to deal with, like staff poaching and blatant copying of designs.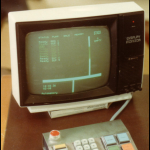 In 1983 I participated in a joint effort to market NZ CNG products to Canada. It was fun but we were a little early for their market – but not early enough not to give their local suppliers some good ideas.
Business Lession #2, always protect your technology.
During the Canada trip I devised a design to use Video displays in our pump controllers. I used the time on the flights to design a layout that became so popular our competitors copied it fairly much. This became known as the Master 1. We used chips designed for Teletext to keep the price down.
In the end CNG subsidies were removed, and the industry died a slow death. The result was a new industry, one which bought up all the old equipment, cleaned it up and sold it on to places like Pakistan, China, and Bangladesh at high margins, but still low prices. It pained me to see such a valuable resource being shipped offshore.
The business grew to a staff of 26, mainly local women who were employed in our production line. We moved to larger premises, taking over a two storied building previously a building supply merchant.
I had a contractor called Justin Farelly who brought us into contact with young genius called Nigel Bree. We employed him even before he left school, creating custom assemblers for the 8051 microprocessor that we had started to use after the National Semiconductor 8070 was deprecated. Nigel went on later in life to work on the code for the Ghost Software developed in NZ by Binary Research, and latterly taken over by Symantec.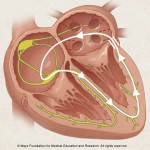 Around 1986 I had a health challenge, which back then required open heart surgery. I had developed an irregular heart rhythm that caused me to pass out a little too often. Called Wolff-Parkinson-White (WPW) Syndrome, the condition requires a small scraping of tissue from the surface of the heart, but getting in there and out again was major task. Today it is all done in a day with catheters inserted in the groin region. I was in Greenlane Hospital for 10 days, and spent three months in recuperation.
I was the first person to have the operation in New Zealand, and as the surgery was still experimental, I was advised "to have my affairs in order". As a result I sold my business interests, just in case.
Postec
Happily the surgery was successful, and I resumed my career, starting a new business Postec Engineering Ltd, with the focus on the systems in the Service Station backend.
The first product was an unattended Forecourt Controller called Fuelmate. This was developed for Shell and was installed throughout New Zealand. A modified version called the Automate was sold to other customers.
I formed a partnership with then Sanyo Business Systems, and we began marketing a POS and Pump Controller combination. The POS side was engineered by John Dyer at Sanyo who was a master of the assembly code inside the Cash Registers. Our first installation was at the Helensville Shell Service Station. After a couple of years Sanyo in Japan changed their direction, and I was then joined by the SBS General Manager Peter Cribbens and Postec Data Systems was born.
Later we moved to market our products in Australia and Asia, and that required developing the interfaces to pumps other than our own in New Zealand. We developed interfaces to Gilbarco and Email (yes there was a company with that name) in Australia, and later Dresser Wayne to address the Asian market.
I created a product called the Postec FCC, or Forecourt Communications Controller (now called the Postec Communications Controller). This created a standard interface for Point of Sale equipment to manage all forecourt equipment, such as pumps (of any brand), tank gauges, etc. To manage development we created pump simulators for every brand of pump. This required a substantial amount of development and I got to travel around the world researching the technology of each pump brand. We re-engineered this for one Oil Company as a RCC, or Remote Communications Controller.
Our design was assisted by John Soppett, an ex Air Force Avionics Engineer who was in the same intake as one of my brothers (Maurice) when they joined as 15 year old "Boy Entrants" in 1962. John was a great inspiration with his design skills and abilities to document equipment and systems. Our product enclosure design from 1988 is still in production today.
We were also joined by software engineer Mike Simpson, who worked for another POS company that happened to choose the name "Postec" for their product. Unfortunately for them we had already incorporated Postec as a company. Mike brought good software skills to the mix, and allowed me to focus on the big picture for the company.
In New Zealand we worked with the various Pump manufacturers to create the New Zealand Standard Pump Protocol. A meeting in Auckland was set up to discuss the way ahead. Chaired by a friend Barry Richdale (ex Vietnam Vet and great guy to have in the chair) the meeting pioneered continuing collaboration between the three major pump manufacturers PEC, Fuelquip, and Compac.
IBM
In 1991, after a marriage separation, I decided on a life change, and took up an offer from IBM to work for them as a Technical Marketing consultant in their Petroleum Retail Division. That lasted until 1992 when IBM had their big downsize, and both my manager and his manager took redundancy, leaving me reporting to the NZ General Manager! A decision was made to move the division to Sydney, but with my children ensconced in Auckland I decided to leave and pursue other options.
So that effectively was the end of my career in this industry.
Epilogue
Postec was recently purchased by Gilbarco and continues with many of the designs we created back in the eighties.
Microelectronic Services became Task Technology and was purchased by a Singaporean businessman.
I had a short time back with Oil Industry technology working with Rix Industries. During that time I developed an LPG Bottle Filling system for the Propane Gas LPG Bottle Filling Centre in Huntly, a total Fleet Management system for the Yellow Bus Company (Auckland Buses) called WinFleet, a secure Fax over RT system for Civil Defence called FORT, and a Data Acquisition System that was used to manage a pilot for burning coal underground in Huntly undertaken by Electricity NZ and the Williams Corporation of the USA.